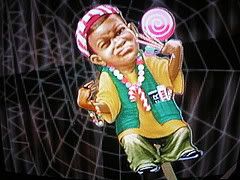 So....I'm trying to lose weight, just like ninety percent of women who have had a baby in the past year. I don't want to talk about how much I need to lose versus how much I've lost. It's depressing. If I wasn't breastfeeding, I would just solve the problem with a nice crystal meth habit. Instead, I am trying to eat right and exercise when I can. The weight is coming off, slower than I would like for it to come off, but it's coming off nonetheless.
In general, I eat pretty well. I don't eat fast food, I eat a lot of veggies, blah, blah, blah. I do have ONE problem that is setting me back: my love for candy. I'll find any excuse to buy and consume candy. My main foes are Hershey's bars with almonds, Twix, and the evilest of evil Reese's peanut butter cups. There is a correlation between my candy consumption and my stress level. When the babies are are both crying, the husband is grumpy, and Dammit Farms is more dammity than usual......"I Want Candy" by MC Pee Pants of "Aqua Teen Hunger Force" begins playing in my head.
I dare you to watch and listen. It'll be stuck in your head for life.
http://www.youtube.com/watch?v=UQvLKYu7izQ
That's what I hear in my head while I'm shoveling mini peanut butter cups down my gullet. It's a blissful moment for me.