I remember watching a family with seven kids file into the restaurant that I worked at while I was in college. The parents looked young, maybe thirty. My friend Nicole and I stood at the end of the bar gawking at them.

"Can you imagine?" Nicole said.

"No" I replied.

We watched as the hosts struggled with two high chairs, a booster and an endless pile of crayons. We both sighed in relief at the fact that we were bar tending that night, and therefore didn't have to take the "Chuck E. Cheese table", which is what we all lovingly called any table with more than three kids. "Who's gonna wear the rat costume today?"

"It's my goal in life to never own a double stroller." Those were my infamous words.

I have to find a new goal in life, since I am in the market for a double stroller. My son is not quite nine months old and I am pregnant. I'm not going to go into the details, but it is a "surprise". I figure the positive is that if I'm nursing and pregnant that my calorie intake can be somewhere in the hundred thousands. Okay, that's an exaggeration, but I figure anything with some nutritional content is game. Other positives? Hmmmmm.
I can bathe both the little monkeys together, as soon as the baby can sit up.
I have plenty of baby equipment.
They'll be able to occupy one another, since they are so close in age.


Negatives.....
let just say I am ready to fax my application into "

Supernanny

". If you haven't seen that show, every episode features a family with too many children under the age of six.
My sister's friend mentioned that I will be in "diaper hell". I know she is right.
Overall I'm in danger of losing my mind.


Despite my worry regarding the situation, I am excited. I realize that a lot of people try very hard to get pregnant and never succeed. I've been lucky enough to just stumble into a pregnancy. A week ago this baby was not even a thought, but now she is a burgeoning presence. My heart is filled with hope for her, with love. Two years ago Barrett was not even a thought either, but now he is my little redheaded sidekick. He gives big open-mouthed kisses and tries to

follow

me everywhere. I want, more than anything, to be a good mommy to them both.
Tandem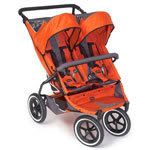 or side by side? I've got a few months to decide.